Product Information
Our dog collars come in 4 widths (3/8"- XS, 5/8"- S, 3/4″-M, 1″- L & XL) and 5 sizes. The leashes are 5.5 feet long and come in the same 3 widths (7/16", 3/4″, 1″ ). We can make custom collars and leashes for your pet. For instance, if you want a longer or shorter leash or even a Medium-size collar in the 1″ width, just let us know. We can also custom make a harness according to your dog's chest size. We will be glad to accommodate your special requests.
XS
3/8"
7" to 11"
Smallest Toys/ Teacups
S
5/8"
9" to 14-1/2"
Chihuahua, Pomeranian, Shih Tzu, Toy Poodle
M
3/4"
12-1/2" to 19-1/2"
Beagle, Boston Terrier, Pug, Dachshund, Schnauzer, Airedale, Basset Hound, Boxer, Dalmatian, Retriever
L
1"
15" to 23-1/2"
Akita, Bulldog, Lab, German Shepherd, Rottweiler, Bloodhound
XL
1"
19" to 28-1/2"
Great Danes, Mastiff, Saints, Newfies
What if my pet's measurement falls in more than one size?
Your pet may fit into more than one of our sizes. For instance, if your dog needs an 18″ collar, this would be close to the top end of a size Medium and the small end of a size Large. If this occurs, you may want to choose based on the width of the collar. If you have a medium-sized dog, you may want the smaller width (3/4″) of the Medium collar. If you have a large or extra-strong dog, you should probably choose the 1-inch-wide size L collar.
XS
10"-16"
S
12"-20"
M
18"-28"
L
20"-34"
XL
26"-44"
XS
2.50"
S
3.75"
M
4.50"
L
5.00"
What size collar does my pet need?
All of our collars are adjustable. The measurements shown with the collar sizes are the collar measurements, not neck measurements. For the best fit, you should measure an old, well-fitting collar or measure your pet's neck and add 1/2″ to 2″ (depending on the size of your pet, if they have a smooth or long coat, how loose you'd like the collar to be, etc.).
Bandanna Sizes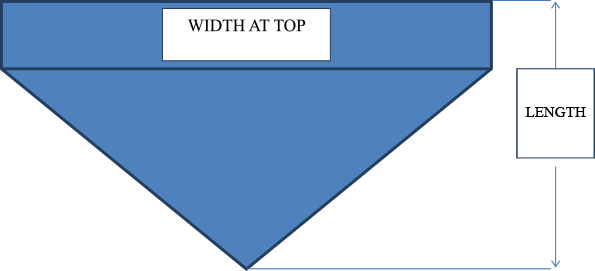 XS
5"
5"
S
7"
7"
M
9"
7"
L
11"
8.25"
XL
13"
10.5"